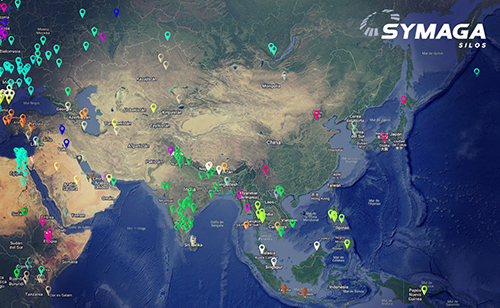 The consolidation in Asia, a major target market
Asia is the largest and most populous continent on the planet, half of the ten countries with large population are Asian. The growing demand for storage in recent years and which is expected in the coming years makes it a key area for Symaga. After penetrating the market almost, a decade ago, we have supplied silos for one of the main bulk port terminals in Indonesia and we began to add to our reference list countries such as Korea, Malaysia, Myanmar, Philippines, Vietnam and Japan.
In 2016 we highlight two relevant projects in Bangladesh. A new storage plant of 59,452 m3 for Akij group´s mill in Dhaka, where we supplied four flat bottom silos SBH2444 / 26 model. The customer satisfaction with Symaga silos and service allowed us to develop the extension phase and other plant for this important group of more than 100.000 tons. In the same year we delivered another project for CITY AUTO RICE, a rice mill that belongs to CITY GROUP, with a total scope of 13 hopper silos with a capacity of 16.037 m3.
Two years later, we supplied our silos to one of the biggest local business groups BASHUNDHARA LTD. The new grain terminal with capacity of 69,664m3 fulfil the aim of enhancing wheat trade in the country. In the same year, Myanmar summed three new projects in Myanmar: Kirim's new brewery, with 9 hopper silos; a new logistics terminal of 55,000 m3 with 13 flat bottom silos; and a wheat storage plant for the new mill by one of the leading global food groups, Wilmar.
The growth rate in Asia have increased continuously, we remark projects such as the breweries in the Philippines for San Miguel in Santa Rosa and Bacolod and Vattanac breweries in Cambodia. We are proud to work with big companies like Japfa Indonesia or Bluecraft in India, Batulicin rice milling and PT Wilmar Nabati milling in Java Island.
The consolidation in Asian market has been achieved in recent years with projects such as City Group, one of the main agroindustry players in Bangladesh, that has entrusted SYMAGA for second time for Rupshi plant, in Dhaka, with a total storage of 406.059 m3
Logistics and safety storage play a key role in food security strategies. Symaga´s storage solution have been chosen by Thai government which, together with The Phoenix 99 supplies rice storage plant with total capacity of 49,660m3, for mains cooperatives such us San Pa Tong y Sawankhalok.
Bangladesh government is also developing a food security project and installing a storage plant in Barishal with 58,448m3 capacity through Cimbria.
Other important installations are rice milling for PT Buyung in Palembang and Sneha Farms in India that add 190,306 m3 in 5 plants and a mill for Alapala in Cilegon.
Symaga takes stock of Asia presence with an increasing number of important projects in its portfolio, ensuring a growing, that endorse a growing for next years. The objective is becoming one of the key suppliers of silos for the most populous continent on the planet.