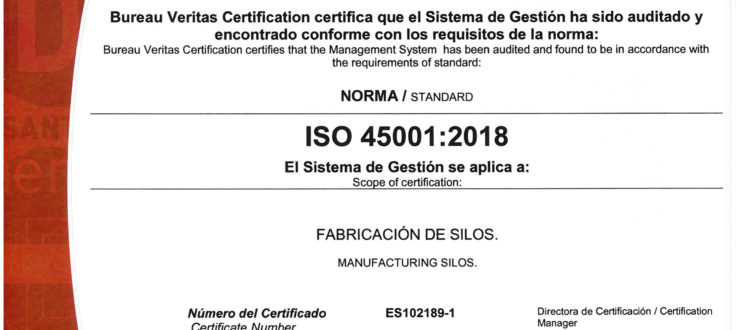 Management System. ISO 45001.
Health and Safety at work is the main objective of ISO 45001. This certification provides appropriate tools to reduce risks, accidents and work-related illnesses. It requires to roll out a safe workplace for employees that prevents and ultimately avoids injuries. In a strategic and operational decision to boost the company's performance, Symaga has decided to abide and implement this management standard,  as it eases the definition of health and safety policy objectives at work, facilitates its development and dissemination with leadership from management, thus achieving improvements in the organization's a reputation, and a greater legal security. Among employees benefits, we find a greater motivation to strengthen consultation and participation; and a reduction in injuries and health problems.
This management certificate is added to the list of certifications that Symaga currently holds. Last year Symaga was granted with the ISO 14001, for environmental protection. We highlight CE marking in manufacture of metallic structures, Symaga was the first company in the sector to obtain it. And of course, the quality recertifications with ISO 9001 and UNE EN 1090.
The Occupational Health And Safety department of Symaga is to be congratulated due to great reduction in accidents, since 18/07/2018 there is no accident with leave. This certification is a reinforcement for occupational health and safety measures plan, which keeps a continuous improvement policy, especially towards the welfare of one of Symaga's pillars, its employees.